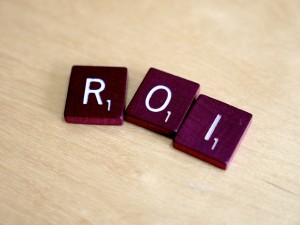 As your first cycle of mailing comes to a close, you should begin to see a return on your investment. You now know what it feels like to control the variables of your marketing efforts. Seeing your ROI grow, you can now plan to reinvest into your practice. This can be an exciting time for you, your staff, and your clients. As you look to find beneficial ways to take advantage of your new financial situation, consider some of the following investments.
Your Workspace
Invest in your workspace. Both your staff and clients will notice as you actively reinvest into your office. Take an inventory of office equipment and supplies, everything from computers to stationary. Find items that will streamline the jobs and tasks of your front office staff and replace them. These changes will also be a breath of fresh air to your returning customers.
Adding additional amenities to your waiting room and your dental stations can be a brand enhancing choice. Many clients will see the office improvements relationally to the dental work they are receiving. These changes will have an overall impact on your client's experience.
Treat Your Team
Remember who has helped deal with your new influx of clients and appointments. Take time to reinvest in them. Your dental hygienists, dental assistants, and front desk staff do more than you know. They are the first and last interactions patients have as they come and go. Find a way to meet your office's specific needs. You know your team. Bonuses, office parties – hosting your staff's family, and other options will allow you to continue to connect with your staff.
Work duties take on new life when you know your boss is actively looking to give back to you, especially outside of a pay check. Hear your staff out. Allow them to help make some purchasing decisions, especially those that will effect and advance their work tools and resources. You may find that a change they have in mind will make your office more effective and efficient.
Drive Your Marketing
Reinvesting with ROI is good business 101. You will see your marketing become easier as you do so. As your marketing ROI grows over time, find ways to keep the good times rolling. Implementing seasonal, and brand reinforcement campaigns can be easily done with another round of direct mailing postcards, social media, and in-office branding.
Our previous blog post "Branding: Make Your Dental Practice Stand Out" can help you with branding ideas.
Grow Your Dental Toolbox
Invest in dental technology. Technology growth in the medical and dental fields is at an all-time high. Being on the "cutting edge" is a necessity in today's dental environment. Advances in x-ray, laser detection, and computer-assisted design are all on the rise. These advances in technology have benefits to you and your patients. Your job becomes easier, quicker, and more helpful. Clients appreciate the faster appointments paired with more comfort.
Continue to reinvest into your practice. Following these tips will allow you fully take advantage of your new found business and additional income. Remember, harnessing the financial benefits of your direct mailing campaign is just one of the ways DentalMarketing.net is designed to help you