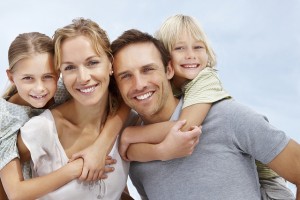 We've recently written about dental marketing for seniors and college students, but if families happen to be the main focus for your dental practice, this post is for you. Here are a few suggestions for making your marketing efforts towards families more effective:
Know What Your Decision Makers Are Looking For
When you market to families, it's important to realize that you're not really marketing to the entire group or just the children. In reality, you're marketing to the decision makers of the family. Would it surprise you to know that for most families, mothers most often make the decision about healthcare providers for their children?
Beyond just knowing who your marketing messages need to speak to, you also need to know what these decision makers are looking for in choosing a dentist for their family. Much of that attitude depends on the demographics around your practice area or the specific audience you are targeting. Is price the biggest concern for your audience? Or is price irrelevant for your targeted decision makers who care more about the practice environment and experience their family will have there?
Demographic Targeting with Direct Mail Postcards
Direct mail postcards are one of the best ways to target specific households with the marketing messages designed for your target audience. Once you know who your decision makers are and what they are looking for in a dentist, you can target families using specific zip codes or even household data to deliver your message to those most likely to act on it.
If you're working to brand yourself as a family dentist, it's important that this messaging carries over to your website, too. Incorporating proper keyword usage in your website text is a great way to increase the chances of your website showing up for local online searches related to family dentistry. Try naturally incorporating terms like "family dentist in [location]," "family dentistry," "dentistry for families," etc. in the following areas:
Title tags
Meta Descriptions
Page Headings
Website and blog content
URLs
Audience Targeting with Online Ads
Targeted online ads can be another valuable addition to your marketing arsenal when trying to reach families with your messaging. Both Facebook and Google offer advertisers the option to show their ads to fine-tuned audiences at relatively low costs per click or per impression. For example, Facebook allows advertisers to define their audience using location, gender, age, interests, behaviors, and more. Google allows advertisers to specify which search terms their ads appear for in addition to the location of the searcher. Through Google, you can also utilize ad networks to continue to show your ads to those who have previously visited your site or even those who have a search history that matches your preferences.
Marketing to families is a great strategy for patient retention and gives you the chance to build an ongoing relationship with the entire family rather than just one patient. These few strategies can help you up the ante in your marketing strategy and attract more of the type of patients you want to your practice.