By following these top blogs, you'll stay up-to-speed on industry happenings and learn current, valuable information from the brightest minds in the field.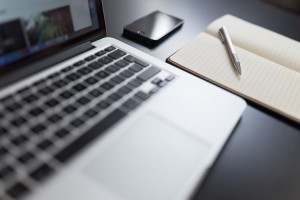 The dentistry industry is booming. With The U.S. New and World Report listing Orthodontist and Dentist as the #1 and #2 professions in 2016 and the U.S. Bureau of Labor Statistics expecting more than 23,300 new dentist jobs becoming available in the near future, dentistry is the ideal field to be working in.
While these stats project a positive outlook for the field of dentistry, they also indicate that finding the perfect dental job could become a bit competitive. However, by staying up-to-speed on things that are happening in the dental field and consistently seeking to learn current, valuable information, you can stay ahead of the competition and continuously grow and develop as an oral health professional.
Below are the top four dentists blogs you should be reading and what you can expect to learn from their content.
Mouthing Off: The Blog of the American Student Dental Association
This student-run organization/publication is aimed towards individuals interested in, currently studying, or practicing dentistry. Though the issues tend to relate more towards dentistry and student life, students frequently post interesting content about the latest happenings and findings in dental news. Check out these three articles to get a brief idea of what this blog has to offer:
Off The Cusp by Patterson Dental
Off The Cusp's goal is to keep readers on the cutting-edge of developments across the dental industry. From the latest technology and products to the best services and programs, Off The Cusp helps dentists enhance their practices and improve their patient experience. With information regularly updated from a diverse group of contributors, you'll gain valuable insights on topics from dental practice management and dental office technology to social media and marketing. Be sure to check out the right side of the blog for a full list of categories and archives.
Ask Dr. Spindel by Dr. Lawrence Spindel
Created in a question-and-answer format, this unique blog features actual questions from individuals across the country that Dr. Lawrence Spindel goes above and beyond to adequately answer. Offering advice and education on dental subjects, Dr. Lawrence speaks from 25 years of experience running his own practice in downtown Manhattan. Though the content is largely targeted toward patients, Ask Dr. Spindel is a go-to source for anyone looking for a different professional opinion on dental matters. These three articles are some of the Doctor's latest.
Marty Jablow, D.M.D.: America's Dental Technology Coach
Author Marty Jablow, D.M.D., also known as "America's Dental Technology Coach", keeps an up-to-date dental blog with all of the latest news and dental technology information to help you keep your dental practice on the cutting edge of time. From hot press releases in the dental industry to run-downs from dental meetings across the country, Dr. Jablow covers a vast array of important information and typically writes about such information far sooner than anyone else in the business. Check in with his blog frequently to learn about key happenings in the dental industry.
By following these four blogs on a regular basis, you can be sure you're backed with the most up-to-date happenings and information in the dental industry. With these tools and resources, not only can you run a better practice, but you can continue to grow as an oral health professional and ensure your career in the dental field will be fulfilling and long-lasting.