For 2019, we have listened to your suggestions and added 5 great new pieces to our customer loyalty program as we try hard to let you do your marketing, your way!
1 – New print items for you to utilize. These include:
New move in mailers
Recall cards
Handout cards
…just to name a few. Check the DentalMarketing.net pricing page for details.
2 – Client Choice Communications: In 2019, we will minimize the number of times that we call you and your team. We understand that you are really busy and would prefer to contact us on your own schedule when it makes sense.
We will continue to provide our complete full-service program, including custom card design, call tracking, 24-hour dashboard stats, call coaching, monthly progress data, missed call reminders, and 100% money-back guarantee! We will leave it up to you to reach out whenever you want to talk over your results or change your campaign!
3 – Month-to-Month Mailings: For 2019, we are doing away with 3-mailing cycle agreements and fees for pushing mailing dates! Instead we now offer a simple month-to-month recurring mailing program.
Each month we bill you on the 1st of the month and you then choose what week of the month you want your cards to go to print. Your phone will start to ring about 2 weeks later.
The program then continues month-to-month hassle free. You can change print dates or cancel/postpone the next month anytime you want up to the 1st day of the month. This provides total flexibility for you and no extra push or change fees!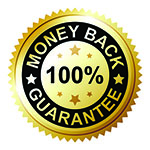 4 – 100% Money-Back Results Guarantee on our Full Service Dental Postcards! No fuzzy math, extrapolations, estimates or assumptions.
Each month you provide a data export, and we audit your results and update your dashboard so you always have an accurate accounting of your actual returns from your mailings!
If ever your anticipated benefit from a mailing has not exceeded your cost after a minimum of 60 days from the target in-home week, you choose if you would prefer a full refund or a free mailing!
As always, for calculation we use your practice's first-year average value of a new patient with a minimum of $1,000, as well as your practice's close ratio with a minimum of 55 percent.
5 – Price Reduction for 2019: As you know, the post office just raised the rates for first class mail 10 percent from 50 cents to 55 cents per piece beginning January 27; and standard rates for direct mail went up about 4.5 percent. We are doing everything we can to streamline our business model to allow you to print your postcards as inexpensively as possible.
So, for 2019, we are partnering with our sister company, Gargle.com, to offer significant discounts on your direct mail and other marketing programs. Initially, we are pleased to announce that we can offer you 10,000+ piece mailings through Gargle.com's bulk pricing for 39.9 cents per piece! This saves you $.03 per piece from our 2018 price sheet and includes our entire program.
Stay tuned for lower 5,000 piece mailer pricing coming through Gargle.com on February 1st!