Dental practice marketing is a game of leads. Those who show interest and need dental services should be taken care of. Equipping yourself and your staff with the following knowledge will enable you to actively project, plan, implement best practices.
Handling Missed Calls
Your office receives up to 80% of incoming business via telephone. Missing these calls will leave you in the red in terms of scheduled appointments and reputation. Here are some missed call stats to give you a better understanding:
37% of calls to your practice occur when no one is there to answer the phone
75% of missed calls will not leave a voicemail
85% of missed calls will not call back
These numbers matter to your practice. Making sure your staff prioritizes calls can affect the success of your future success. When implementing some tactics to combat missed calls, think on these guidelines:
Stagger lunch breaks for your staff, allowing for one member to always be on hand for calls
Audit your phone set up for number of lines and voicemail system—including your recorded prompts or instructions
Give monetary incentive to staff to answer forwarded-office calls after hours
Missed calls do not have to be accepted as part of the business and a non-avoidable business expense. They can be correctly managed and turned into a positive aspect of your front desk. Being aware of these simple guidelines and correctly managing these and other tactics will boost your number of appointments while decreasing your number of missed calls. You control the variables that make or break your practice.
Call to Action
Now that you have your call management plan in place, don't forget to close. While providing a high-end dental service is your number one priority, everyone in your office should also be a top salesperson. Your practice's on-phone communication, customer service, and salesmanship should be ahead of the game. A call to action should be the pinnacle of any call. After meeting the caller's needs, they should become a new patient with an appointment.
Properly train and monitor your staff, as they close and ultimately make appointments. Great marketing, outreach, and even your great dental work should not fall because of phone techniques that can be taught. Make a lead and give them a call to action.
Staff Training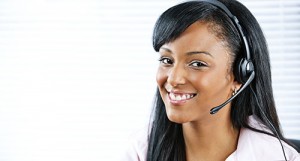 Many potential patients have been on the receiving end of a customer service blunder—most times taking their business elsewhere and costing you money. Many times, staff are to blame for such experiences. Allowing your staff to go untrained and unobserved for too long could put your business in a tight situation as far as leads, especially in today's world of social media and online review sights—everyone has a voice these days.
Don't allow your practice and staff to be tarnished by improper staff training, or lack thereof. Take the time and make the financial investment to listen to calls made to your practice and give your staff meaningful feedback that can be used to enhance the level of service that they provide. Be sure to provide your staff with professional training and customized staff coaching.
Special Offers
With almost 300,000 active dentists in the US today, just opening shop and turning on a neon sign won't necessarily draw in customers. Marketing has to be part of your business. Special offers are key to a successfully marketed dental practice. Individuals need to receive something that will lead them to make an appointment and, hopefully, return for treatment in the future.
Here are some ideas for promotions and special offers:
Offer a first-visit-free coupon
Offer free first-time X-rays
Offer family promotions (e.g. one child free)
Offer free teeth whiting with any referral
These are just a few possibilities you could weigh as you select the right promotions for your practice and potential patients. Special offers are a must for any practice marketing to be successful.
Community Reputation
Overall community reputation will make or break your leads. Be sure to monitor your practice reputation by regularly observing and monitoring word of mouth, customer feedback and online reputation. What past and present clients say about you matters. Everyone now has a voice through social media and online review sites. Monitoring these platforms will not only allow you to actively have a voice, but will also allow you to be ahead of any downward trend in community reputation.
As you consider these make-or-break indicators, remember that your practice will consistently need new patients. However, you will need to maintain a steady client list before becoming successful and staying that way. Keep up your efforts and come back to our dental marketing blog for more tips focusing on dental practice marketing!
Be sure to also comment with any of your own make-or-break tips below.