Dental Marketing with Social Media
The Internet and social media can boast of being the game-changers in several ways. Not only do they help businesses have an active presence with a global reach, but they have made it that much easier for businesses to connect with their consumers. No business cannot benefit from social media. If you have a dental practice, you must embrace social media to milk its myriad opportunities.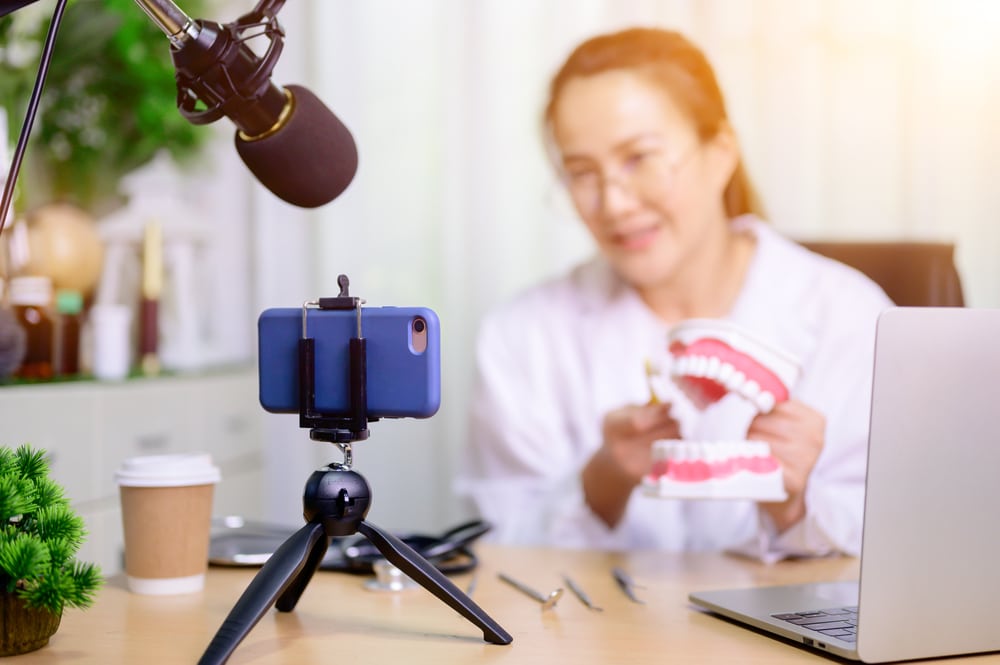 Here are four benefits of having a social media presence.
Creates Brand Awareness 
An active online identity on social media helps you connect with your patients on an informal level aids in creating further awareness of the brand by implementing innovative social media tactics, you can effectively distinguish your brand from competitors, establish a strong connection with your current patients, and showcase your strengths to potential patients.ients, and 'flaunt' your strengths to potential patients.
Offers Patient Feedback
Patient feedback is critical in every business as it helps them improve. Social media is the one place where people do not mince their words and share their experiences honestly. Regardless of whether you get a positive or negative reaction, your response will make a huge difference in losing a patient to your competition or winning them over and strengthening loyalty. Social media also helps you understand what your patients want and run a more patient-oriented practice.
Helps in Reaching Untapped Markets
Having a social media page for your dental or orthodontic practice won't do you any good if you don't use it. Aim at increasing the web presence as it will help in increasing your SEO and getting in touch with future patients. Creating useful, unique, and creative content will help you reach new patients; it will also enable your current patients to advocate the great quality of the services you offer. This helps you reach untapped markets you couldn't have reached otherwise.
Helps with Recall Value
Every business seeks customer loyalty, and social media is one of the best places to secure it. Your patients may think about leaving your practice for another if they see value in the competitor or are persuaded by their circle of family and friends. Therefore, you must constantly generate valuable content and information through different social media platforms. Having a unique voice will help patients remember you.  For example, many view a dental visit as an unpleasant and scary experience, but you can have a fun and humorous tone to your social media content. This way, the patients will remember you and even recommend you to their family and friends.
Three Effective Dental Social Media Strategies
Engaging with Patients
Social media sites, like Twitter, YouTube and Facebook, provide a great platform to share relevant and interesting information about your practice. These platforms help in fostering communities and give you a chance to establish and encourage communication with the patients. As long as the content is relevant and interesting, you will find an audience.
Connect with Colleagues
Social media does not discriminate regarding whom you can reach out to. Sites like LinkedIn help in connecting with dental professionals all over the globe. Take advantage of it and connect with industry professionals to share ideas, discuss recent innovations, swap case reports, ask for advice, and take in industry news. Needless to say, these connections can be extremely invaluable.
Share information
There was a time when the only way to know about new procedures, policies, laws, or general dental and orthodontic information was through print publications or seminars. Social media changed all that. There are numerous dental-specific news sources that are constantly updated by thought-leaders covering a broad range of topics. Blogs are another excellent source where ideas can be shared by the experts. By connecting the blog to Facebook and Twitter accounts, the authors can be contacted easily.
Understand that the online community will take a little time to grow organically, so don't be disappointed if there are fewer followers initially. Don't give up — keep creating content, engage with the patients, and you will see the growth gradually.
Author Bio: 
Emily Taylor found the perfect fit for herself as the Online Marketing Manager at Thurman Orthodontics in Fresno CA, as she believes that a great smile does more than make a person look great – it makes them feel great as well. The power of a smile has always been a mystery to Emily and she loves researching and writing about it. She loves to write about everything to do with a healthy bite and a beautiful smile – whether it is ways to achieve them or the importance of them in the various aspects of life. What brings a big smile to Emily's face is her family and surfing. She also likes to bake and her children and co-workers call her the cookie fairy!