Follow these seven simple, affordable, and effective dental marketing strategies to differentiate your dental practice from the rest, earn the trust of your patients, get repeat business, and increase your profits.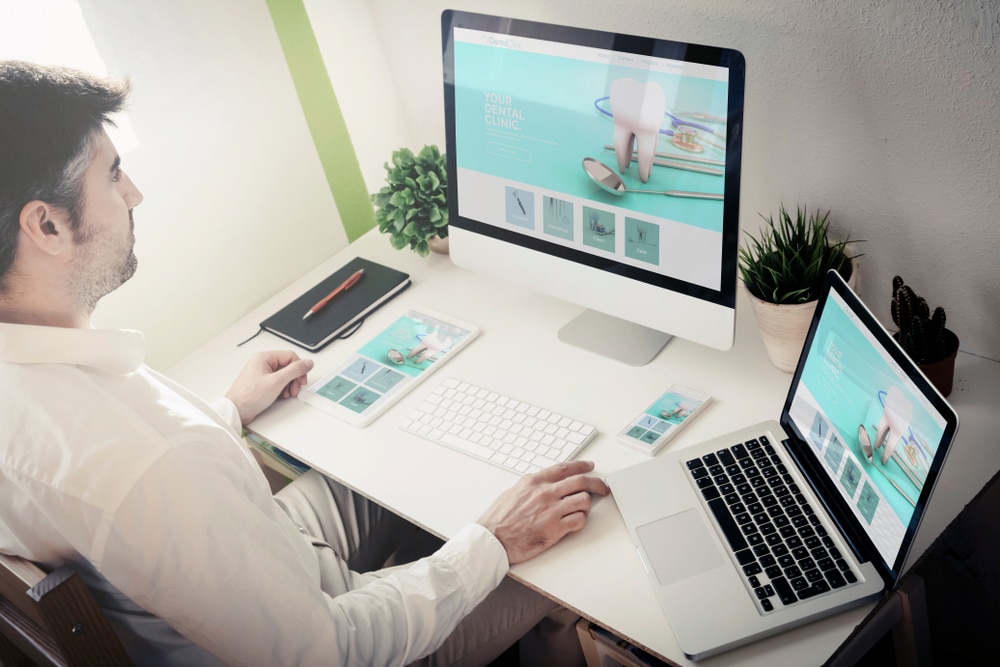 A smart way to spend your advertising dollars is to target a specific audience and direct your marketing communications directly to that group. Ask yourself, "Who are my ideal patients?" Are they young families? Do they belong to an older demographic and are looking for cosmetic dental procedures?
When you hone in on your target market, it requires less work and a smaller budget to have a successful marketing strategy.
2. Differentiate Your Practice
Most dental practices offer the same services. However, it's important to find your niche and show others what is different about what your practice offers its patients.
If you don't know exactly what differentiates your practice, ask your patients the following questions:
Why did you decide to come to us rather than another dental practice?
What is one thing we do better than the other practices?
Can you tell us about one time that we provided you with good service?
What would you tell other people about us?
Once you have your answers, it'll make it easier for you to focus your marketing messages on those positive and differentiating points.
3. Optimize Your Website
It's imperative that your website is easy to find when searching online. To help with this, you should build rich profiles on social media sites such as Facebook and LinkedIn and then regularly post search engine-optimized content.
Your website should have staff bios, a Frequently Asked Questions page, a communication form, and a patient payment portal. Make sure your site looks current, is easy to navigate, and don't forget about building up local listings and profiles.
4. Educate
Building the trust of patients, both current and potential, is an essential part of marketing in today's world. The starting point is to produce a blog that can be used for producing content such as editorials, how-to articles, and answers to common questions.
If you want to take education to the next level, offering seminars (in-person or online) is a great way to attract more traffic to your site.
5. Send Direct-Mail Marketing
Yes, direct-mail marketing is still applicable in today's digital age. Consider these facts from the Direct Marketing Association:
42% of recipients read or scan direct mail pieces.
1% of recipients, ages 45-54, responded to direct mail ads.
9% of recipients find postcards useful, making them the preferred type of direct mail.
The fact is, direct mailing your marketing pieces is still a highly effective form of marketing for your dental practice.
6. Increase Referrals
In order to thrive, dental practices need a strong referral base. You can get one by being an active participant and sponsor in community events, by soliciting your informational literature to area doctors, and by giving incentives to your patients for referring your practice to their family, friends, and neighbors.
7. Ask for Reviews
Online review sites, such as Yelp and Facebook, are hugely popular with consumers. According to Bright Local's Consumer Review Survey, 97% of consumers looked online for local businesses in 2017, with 12% looking for a local business online every day!
85% of consumers trust online reviews as much as personal recommendations
Positive reviews make 73% of consumers trust a local business more
49% of consumers need at least a four-star rating before they choose to use a business
Responding to reviews is more important than ever, with 30% naming this as key when judging local businesses
68% of consumers left a local business review when asked – with 74% having been asked for their feedback
79% of consumers have read a fake review in the last year, but a worrying 84% can't always spot them
Yelp & Facebook are local consumers' most trusted review sites, followed by Google & BBB.org
People are becoming less likely to visit businesses' websites after reading positive reviews – a 17% drop from 2016
32% of consumers read local reviews on mobile apps this year (a growth of 14% from 2016)
Consumers read an average of 7 reviews before trusting a business – up from 6 last year
So how do you get your practice reviewed online? Follow these 4 steps:
List your complete practice profile on each popular review site. Use local review sites, as well as, the big name sites.
Give your patients an incentive to write a review, such as a coupon. Just make sure you're not giving them an incentive for only a good review.
Make it easy by emailing a reminder with a link attached.
It's very important to respond to your reviews, both good and bad. Ask questions, follow up, and take the opportunity to learn from them.
When you implement these seven simple, affordable, and effective dental marketing strategies, the growth of your dental practice will be consistent and predictable, and your profits will increase.